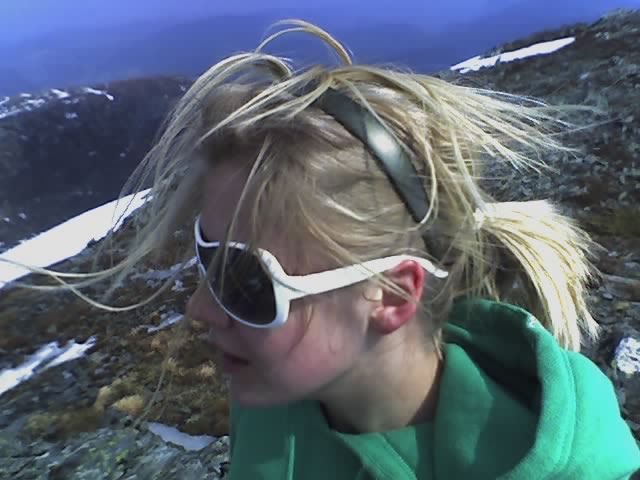 Today i`ve been on 2 hikes. The first one was the same as yesterday, early this morning, about 10.00.. Sissel Margrete had to work afterwards, so thats why we went that 'early'.. it was real windy,but it was a nice temperature and we sat for a while on the top, enjoyed chocolate,water/coke and food i brought in my backsack. (yeah,very healthy) Here r some pictures from the first top, Rosvikheia -
1
,
2
,
3
,
4
Sissel went home, and me and Eldrid went back at my place.. we had tea, and talked a bit. Our favourite-mountain is 708meters above sealevel.. it`s still alot of snow there,but we wanted to check if it was as bad as we thought, so after an hour of wondering we jumped in the car and drove up to the place we walk from.. about a 15minutes drive. It was worse then we thought.. but then we decided that we could take a little walk in the beginning of the path.. but then as we got further, higher and higher we wanted more. It was kinda sick, i`ve never walked in so deep snow before, it reached our hips. each step was heavy and slippery.
we was a bit unsure of what we should do when we came halfway to the top, cause the snow was deep, and the wind was powerful and robust..and it is kinda abrupt/steep..and as i said,very slippery and deep, loose, and at the same time
icy
snow - we did not want to fall down the hill-sides.. :P
but ofcourse.. we continued - the wind got absurd heavy - but we made it.
I cant describe the feeling of how great it was to make it.. like we were on the top of the world
. And then..
it`s manageable to climb and get up - we had not thought so much about how to get down..
heheh. Adrenalinekick ill tell u.we ran, glided, very few falls,but some ofcourse!it was comical and jolly to run down in the deep deep snow.
i must admit that it is not reasonable to take this hike at this time, i`ll recommend to wait a while! but,
wow,i loved it
.i want to go there tomorrow as well, but i dont know,i guess sissel margrete is a bit skeptic, and by all means - thats sensible ;D we`ll see.
The sun was sharp, and i couldnt c anything on the cell,
but i took some pictures anyway and here they r -
1
,
2
,
3
,
4
,
5
,
6
,
7
,
8
:)